Give your laundry routine a boost with the Hoover HL41472D3W Washing Machine, available to purchase from London Domestic Appliances. This freestanding washing machine comes in classic white, with a 7kg capacity, perfect for medium to large households. It was also awarded an A rating for its superb spinning performance, with a 1400rpm maximum spin speed for more efficient wash cycles. And, when it comes to energy efficiency, the HL41472D3W has an A+++ rating, making it one of the most efficient machines on the market.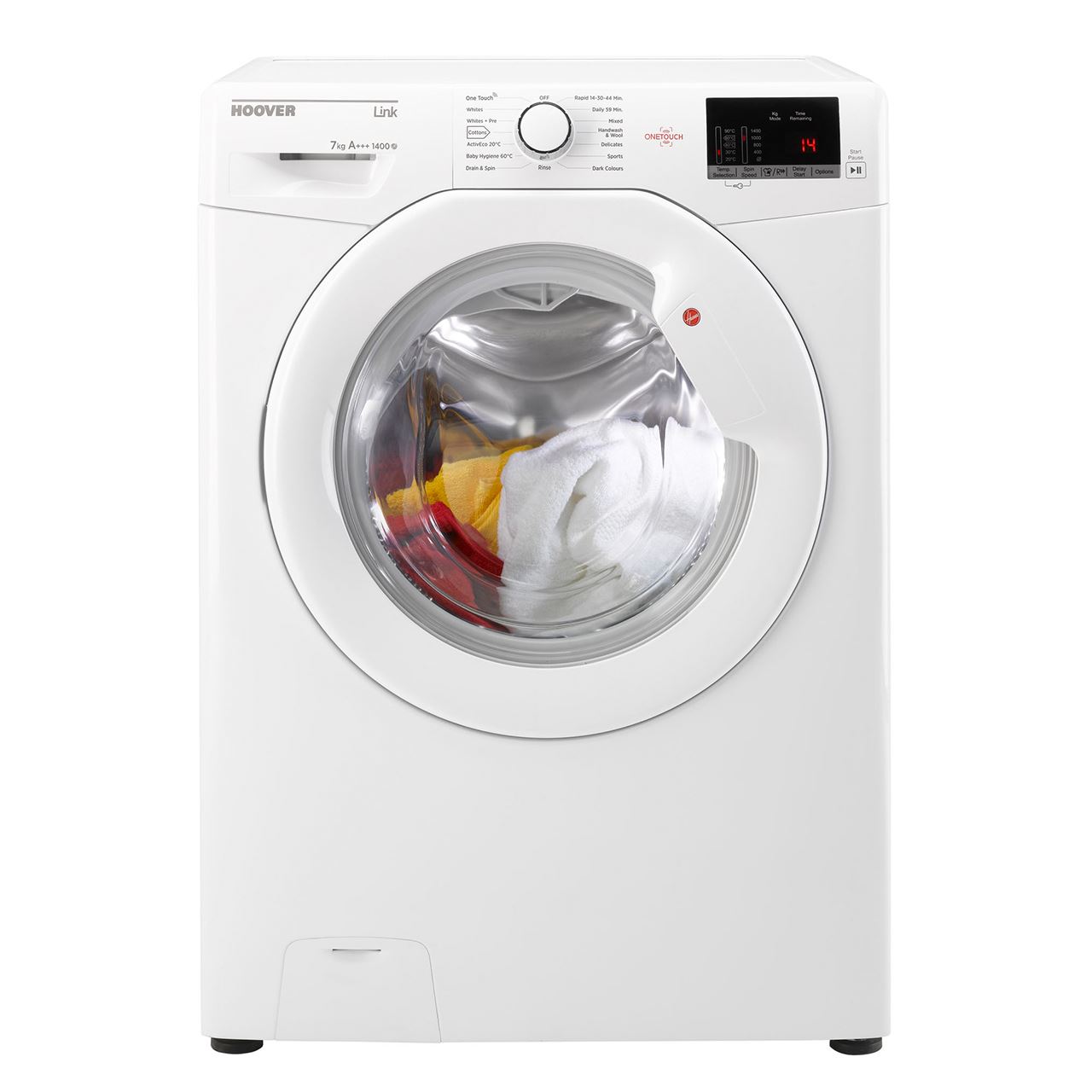 One Touch Technology
Manage your laundry with the tap of an app. The HL41472D3W features WiFi and Bluetooth connectivity, courtesy of the Hoover Wizard app. This one touch technology is simple and straightforward to set up, allowing you to manage your wash on the go.
The app gives you access to new washing programmes, plus statistics on your wash performance. So, not only can you set your washing to go from your phone, you can also receive suggestions on how to make your laundry more efficient. Helping you to save money on your energy bills.
You can also use the Voice Coach function to choose the right program for your wash load. Thanks to the Hoover Wizard app, organising your laundry has never been easier.
Choice of Programs
The HL41472D3W features a huge choice of programmes. Allowing you to find the best settings for your wash. There are 14 programmes in total, including ActiveEco 20º, Handwash, Quick wash, Sports wear and Delicates.
If you're in a hurry, there are 3 different quick wash programmes you can choose from to get your clothes clean fast. There's a 14 minute, 30 minute or 44 minute cycle. Perfect for when you need clean clothes quickly. Hoover never compromises when it comes to results. So, even if you're using the rapid wash option, your clothes will still come out beautifully clean.
For a deeper clean, you can activate the Hygiene+ option. This is great for those with allergies or sensitive skin, as the hotter temperatures and longer rinse times effectively kill bacteria and remove allergens from clothes and bedding.
Easy to Use
With the washing machine's quiet performance, you won't have to worry about your late night washing cycles disturbing the whole household. It's super easy to use, even without the app, with clear controls. The delay start timer means you can schedule your wash cycle a full 24 hours in advance. And the large LED display comes with a program countdown, so you know exactly when your wash cycle will end.
Buyers love the HL41472D3W for its huge choice of features, ease of use and great value for money. Get yours today. All Hoover washing machines come with a 10 year parts and labour warranty.
Pick up the Hoover HL41472D3W Washing Machine from London Domestic Appliances and get a guaranteed great deal. With our Price Match Promise, you won't find it cheaper elsewhere online. We also offer great customer service, with collection or delivery within London. Browse our website for a wide range of Hoover appliances. Or check out our hub for more reviews like this one. For more Hoover washing machines in London, view our range today.