Transform your wash with the Hoover DHL149DB3B Washing Machine. Available in striking black, this innovative freestanding washing machine looks extra stylish placed in your kitchen or utility room. Not to mention roomy. Perfect for tackling your daily laundry with minimal fuss.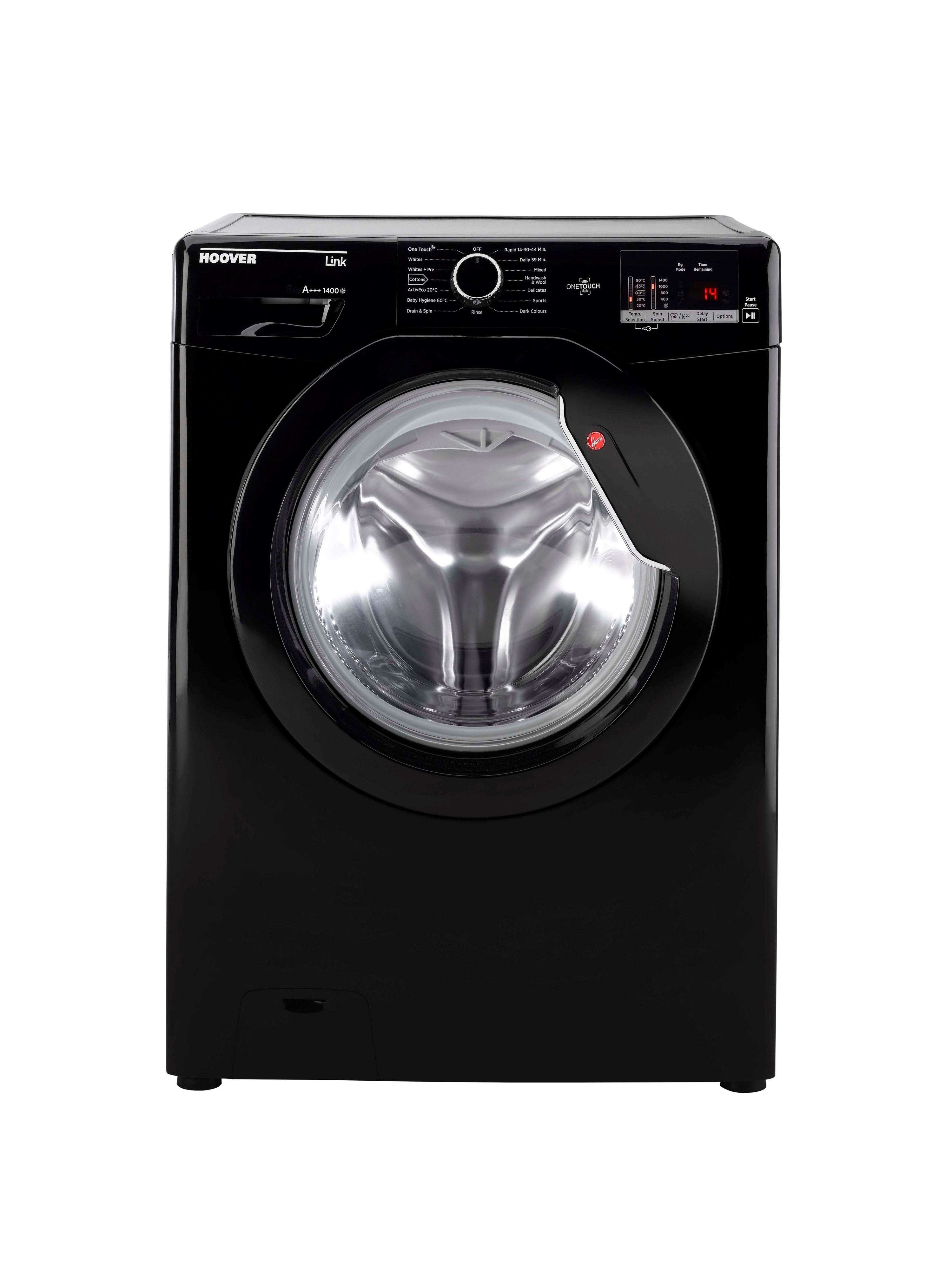 Roomy With a Huge Selection of Helpful Programmes
The 9kg DHL149DB3B features an extra large door, which customers say makes loading and unloading the washing a breeze. It's great for medium to large sized households, thanks to its spacious capacity. Meaning you can get more done in each wash.
Choose from 16 different programmes to get the perfect cleaning results every time. From Delicates and Sports programmes, to the handy Baby Hygiene 60º programme that helps protect your precious little ones from bacteria.
Buyers love the choice of 3 rapid cycles - 14, 30 and 44 minute programmes. Perfect for getting clothes or sheets clean in a flash, without compromising on cleaning performance.
And if you're keen to save energy, while still getting that stellar clean for your fabrics, the smart Active Eco 20º programme allows you to wash multiple fabrics and colours together at a temperature of just 20º, with excellent performance and 40% less energy consumption than a standard 40º wash.
The Easy Way to Save Energy on Your Wash
When it comes to saving energy, Hoover truly goes the extra mile. The DHL149DB3B boasts an A+++ energy efficiency rating, making it 20% more energy efficient than the next level machine. Plus, the machine's Advanced Kilo Mode uses smart sensors to weigh your laundry, adapting the water, energy consumption and time needed to ensure the most eco friendly wash.
Take your laundry routine to the next level, with One Touch technology. Download the Hoover Wizard App to control your washing machine. Allowing you the freedom to manage your washing on the go. With the app you can control your wash, download new cycles and access tips for improving your wash performance and reducing your energy consumption. The easy way towards maximum efficiency and even better washing results.
Other helpful features include the 24 hour time delay, giving you greater control over your wash. Plus a clear LCD display with time countdown. So, you can see exactly how long is left on your wash.
The DHL149DB3B is popular among buyers in particular thanks to its wide choice of programmes, short cycle times and ease of use. It's spacious, stylish and well built, with a huge selection of handy features. Not to mention quiet when running (even in spin mode).
Get a free 1 year warranty as standard when you buy the DHL149DB3B from London Domestic Appliances.
Pick up the Hoover DHL149DB3B Washing Machine from London Domestic Appliances and get a guaranteed great deal. With our Price Match Promise, you won't find it cheaper elsewhere online. We also offer great customer service, with collection or delivery within London. Browse our website for a wide range of Hoover appliances. Or check out our hub for more reviews like this one. For more Hoover washing machines in London, view our range today.